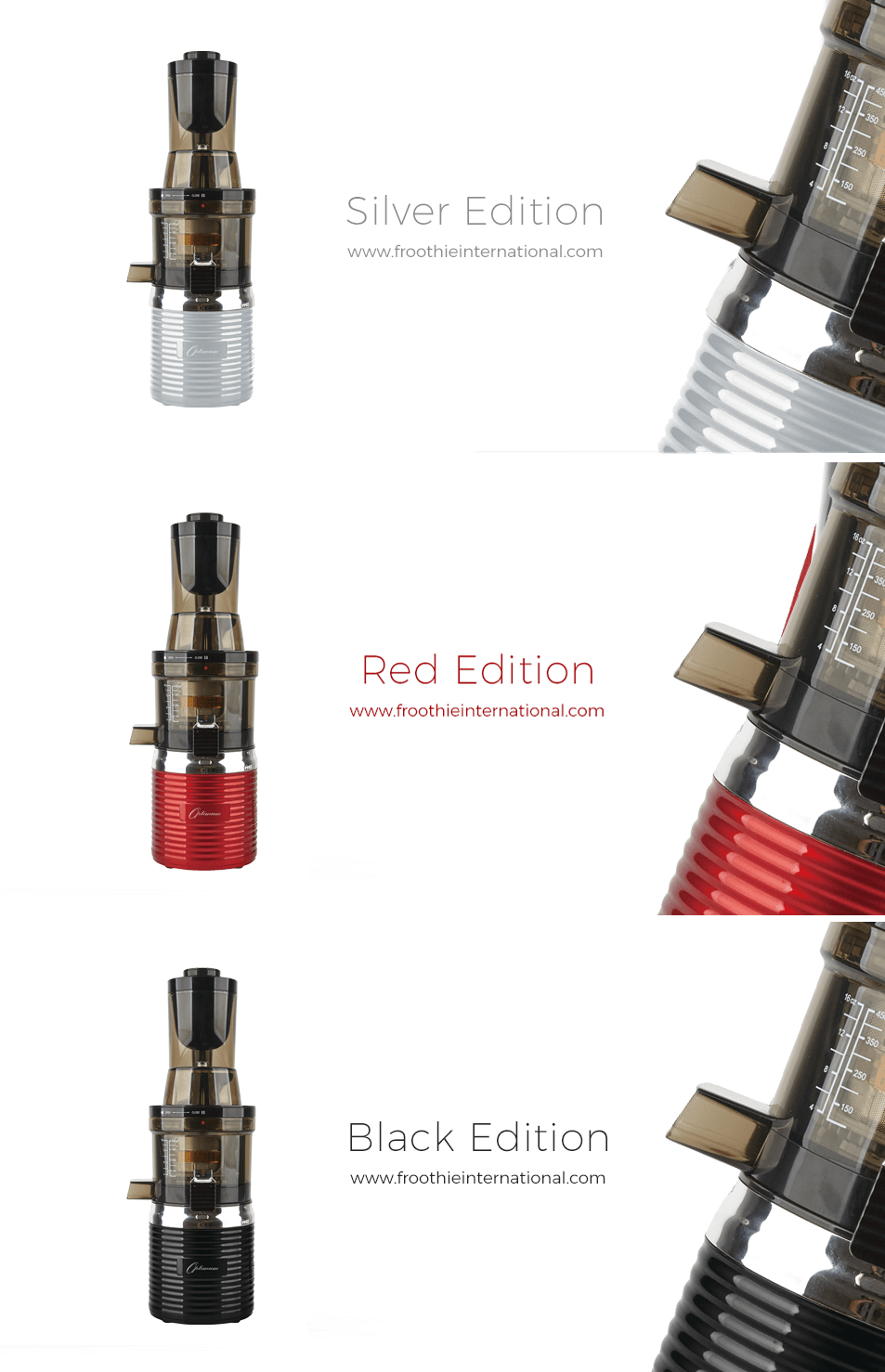 Introduction
With the immense success of the Optimum blender range, Optimum Appliances has worked with some of the world's most reputable manufacturers to come up with a high-quality, durable juicer with lower speed and better extraction than its competitors. The design, testing and approval process has taken Optimum over a year. Each part is designed to compete with the world's best brands and last longer. We offer a comprehensive 10-Year Warranty on the motor. Say hello to the highly anticipated Optimum 600(3rd Generation) (Extractor Series). This heavy-duty, efficient, versatile, masticating juicer in a vertical design makes nutritionally potent juice in just a few minutes. The no-heat, less friction juicing of the Optimum 600 (3rd Generation) Juicer is proven to keep more vitamins, minerals and enzymes intact in comparison to high speed juicers. More Living enzymes means that the juice created in the Optimum is better for your health and vitality. Not only can you create delicious fruit and vegetable juices; the Optimum 600(3rd Generation) allows you to create your own nut milks, soy milk, ice cream, tofu and much more.
view more
Juicer Specification
Model
OPTIMUM 600 (3rd Gen)
Continuous Juicing Time
30-45 min
Jug and Bowl Material
Tritan
Features of the Optimum 600 (3rd Generation)
2 Strainers
Course and fine for juicing versatility.
Better Quality Juice
The slow speed of the Optimum slow juicers leads to better quality, tastier and larger amount of juice.
No Food Preparation
Finally a slow juicer is available which can juice whole apples, oranges and more without having to chop into pieces.
Larger Juicing Screw
For enhanced juice and nutrient extraction.
Why offer the Optimum 600 (3rd Generation) Cold Press Juicer?
With over a year of designing and testing this product to perfection, below is a list of what makes it a world class juicer: Can juice whole fruits and vegetables with no food prep required!
Slow speed – Only 43!
Designed to last, high-quality SGS approved parts
Induction Motor designed to last, 10 Years Comprehensive Warranty
User friendly
Easy to clean (Self Cleaning function)
Low Noise, as low as 40dB
Ingredient flavour preserved, due to the slow speed of only 43
More nutrients, vitamins, minerals and enzymes
Less separation & 35% more juice than centrifugal juicers
Safety sensor
CE and SGS approved
Explore all the functions
Fruit Juices

Green Smoothies

Wheatgrass

Nut Milk

Soy Milk
view more
Optimum 600 (3rd Generation)