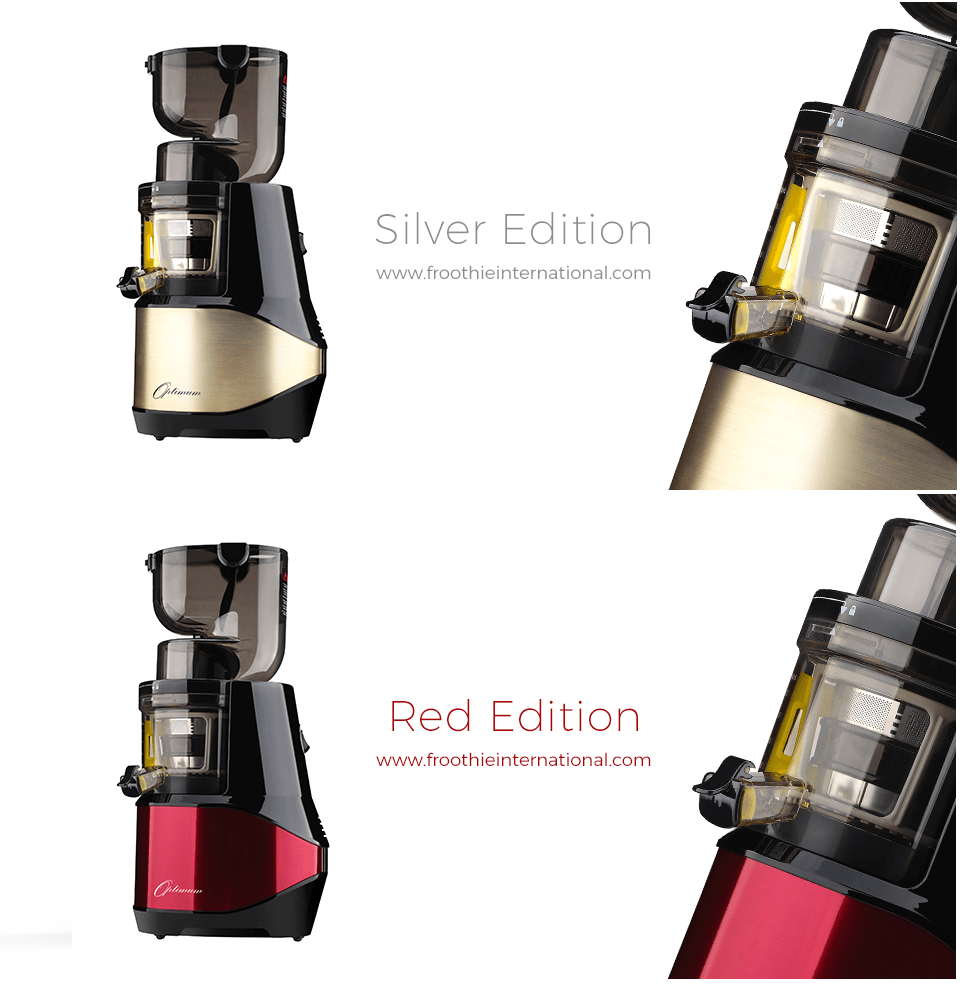 Introduction
The Optimum 700 (2nd Generation) Advanced Cold Press Juicer is the next generation of the revolutionary Optimum 700 – a cold press (masticating) juicer that requires no food prep! Like the 700, the Optimum 700(2nd Generation) Advanced features a wider mouth chute (8cm x 8cm) that allows you to add fruits, vegetables and other ingredients whole – no chopping required. The positioning of the additional 3.5cm x 4.5cm feeding chute offers the versatility to juice longer style ingredients without the necessity to chop smaller. The strategically positioned self-feeding dual wings act as a safety mechanism and offer the ability for the ingredients to flow through to the juicing screw in an effortless motion. The multi-purpose dual wings also assist with reducing the risk of a blockage as over feeding is eliminated. Similar to the 700, it offers a 50% larger juicing screw, which means it extracts more juice with far less clogging and overall waste. The Optimum 700(2nd Generation) Advanced Cold Press Juicer retains the Optimum 700, in its sleek, stylish design and the increased quality of its components. The Optimum 700(2nd Generation) conveniently provides a collection of components offering the same versatility as the Optimum 700 with the inclusion of a tofu box, fabric cloth and filter strainer attachment.
view more
Juicer Specification
Model
OPTIMUM 700 (2nd Gen)
Continuous Juicing Time
30 min
Jug and Bowl Material
Tritan
Small Chute
3.5cm x 4.5cm
Features of the Optimum 700 (2nd Generation)
Lifetime Motor Warranty
Domestic lifetime motor warranty for your Optimum 700 (2nd Generation) juicer.
Create your own Tofu
The tofu box can be used to make fresh tofu at home.
8cm x 8cm Feeding Chute
The Largest feeding chute on the market.
Effortless cleaning
Clean those hard to reach locations with the specifically designed cleaning brush.
Why offer the Optimum 700 (2nd Generation) Cold Press Juicer?
Juicers come in two categories: centrifugal and cold press (masticating). The Optimum 700 (2nd Generation) Slow Juicer is a cold-press juicer. That's important because, compared to centrifugal juicers, a cold-press juicer:

Extracts more juice: you'll get between 35-50% more juice* from the same volume of produce in a cold-press juicer than you would from a centrifugal juicer. That means it creates less waste and saves you money every time you use it.

Preserves more nutrients: centrifugal juicers operate at high speeds that generate a significant amount of heat as they create their juice. Not only does the heat alter the taste of the resulting juice, but it can also break down some of the nutrients. For example, independent tests* show that juice from a cold-press juicer contains 42% more Vitamin C, and 60% more Vitamin A.

*Test results from Michelson Laboratories,Inc., Korean Food Research Institute (KRFI), and internal labs.

Is far quieter cold press juicers also provide a much quieter and more pleasant experience while they're operating. In their article comparing the two juicer types, Huffpost describes the centrifugal juicer as being "as loud as a blender". Meanwhile, the cold press juicer was "quiet enough to hear the TV while juicing".
Explore all the functions
Fruit Juices

Green Smoothies

Wheatgrass

Nut Milk

Nut Butter

Frozen Fruits Ice Cream

Soy Milk

Baby Food
view more
Optimum 700 (2nd Generation)