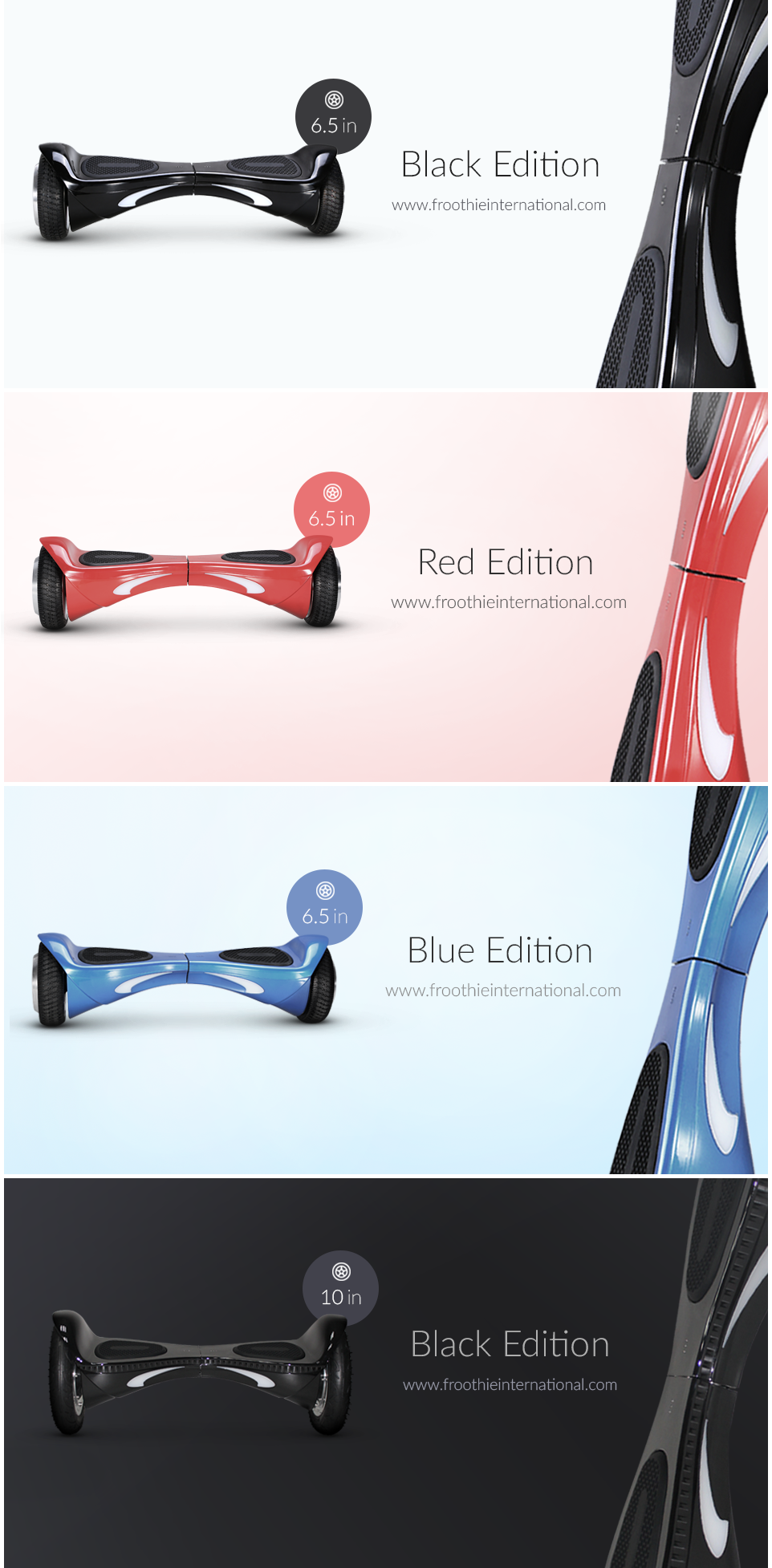 Introduction
You can now cruise through the streets in style, moving to the groove of your favourite music on our Bluetooth enabled hoverboard.

The HoverXBoard is the new age, high-tech means of personal transport, powered by aerospace control theory, fuzzy algorithm, gyroscope and a self-balancing acceleration sensor system. Its server control system detects alterations in your body posture based on the transference in your body weight and precisely drives the motor to your desired longitudinal direction. Leaning slightly forward or backward on the pedal sensors will take you through acceleration, deceleration, braking and other operations. To turn, simply slow down and shift your foot towards the left or right for self-steering.

Designed with highly adaptive controls for easy operation and mobility, this sleek and lightweight personal transporter is set to elevate your style quotient while lowering your carbon footprint. The HoverXBoard will become your perfect companion for recreation, scenic tours and short-haul travels, moving as one with you through everyday moments.
view more
HoverX Specifications
Dimensions 6.5 inch (LxWxH)
580x180x180 mm
Dimensions 10 inch (LxWxH)
600x250x260mm
Benefits of the HoverX
Built like a Tank
Built like a tank, HoverX partnered with Optimum to ensure only the highest quality parts are used for optimal performance.
LED Lights
Illuminate your path with the sleek LED head, tail, turn and brake lights for additional safety.
6.5" and 10" Smooth Ride
6.5", and 10" custom-made solid rubber tires for a smooth, seamless ride.
Bluetooth 4.0
Get your DJ on with the HoverX Board Bluetooth 4.0 connected speakers.
Why the HoverX


High Speed
Our HoverX Board leads the industry in speed, outpacing its predecessors and popular brands with our powerful 700W motor capable of reaching 12km/h (10mph).

Long Range
Our supercharged battery allows the HoverX Board to last a minimum of 20km, taking you anywhere without the need to charge.

Fast Charge
Our engineers have worked tirelessly with LG to ensure our battery charges in less than an hour while preserving battery life.

Bluetooth 4.0 Speakers
Music is your sure way to turn on the swag. Simply connect your phone and play your swaglist to ride in style.

Rides Steep
The HoverX Board is designed to ensure slopes are no obstacle. The 30° climbing angle blows other hoverboards out of the water.